Excessive sugar consumption is nowadays recognized as the main health problem worldwide, leading to overweight. Dr. Weiler – THE AESTHETIC TASTE – a revolutionary new edible spray that works by a completely natural way reducing excessive sugar consumption and calorie intake. The spray consists of 100% natural, purely herbal ingredients and food flavors. Flavors have been proven to curb cravings for sugar, by tricking senses into thinking, that the craving has been satisfied. Most people consume too much sugar as it is hidden in many foods and highly concentrated in soft drinks and sweets. Sugar is the only substance that people consume, which has no nutritional value, but a lot of calories. Dr. Weiler -THE AESTHETIC TASTE spray was invented to support people´s health and lifestyle. This sugar-free spray can become a blockbuster. The goal of the brand is to make this unique product an integral part of millions of people's handbags and pockets. Moreover, it is vegan, gluten-free, no fat, no salt and by its recapture also HALAL.
About 2,5 billion people worldwide are overweight and the number is increasing tremendously. Excessive sugar consumption is recognized next to be the main cause of overweight as for unclear skin, dental problems and many medical problems. AZ Zahncreme Gmbh offers a completely natural way to help people keep fit, to avoid excess weight and related health problems.
The food industry tells people that sugary products, for example, soft drinks or candies make happy and are regular food. That`s not true. Soft drinks as sweeties should be a pleasure, not more. A famous Professor from the University of California calls this 'the hacking of the human mind by the food industry'. That`s very true. Sugar is nowadays called by scientists a drug, acting by biochemical brain signals like Alcohol, Nicotine or other drugs leading to addiction. So should a drug be used on a regular basis?
Until now there is no single product with such a special effect on the market. There are some expired patents, which noticed similar effects by similar products decades before. In the UK a sticking plaster was launched several years ago, which should work with the same effect. The people shall smell at this plaster every time the desire for sweets or soft drinks occurs. The procedure is rather good but not perfect. Flavours work the best way with a very intensive and short impact. The longer person smells a flavour, the weaker it becomes. Moreover, people smell ortho and retronasal, meaning smell with the nose but also by the mouth. The tongue can only distinguish five flavours - bitter, spicy, salty, sweet, and umami that is hearty. The olfactory mucosa in the nasal cavities, however, knows more than 10,000 flavours, according to millions of possible combinations. Therefore, as a summary, the use of a mouth spray works perfectly.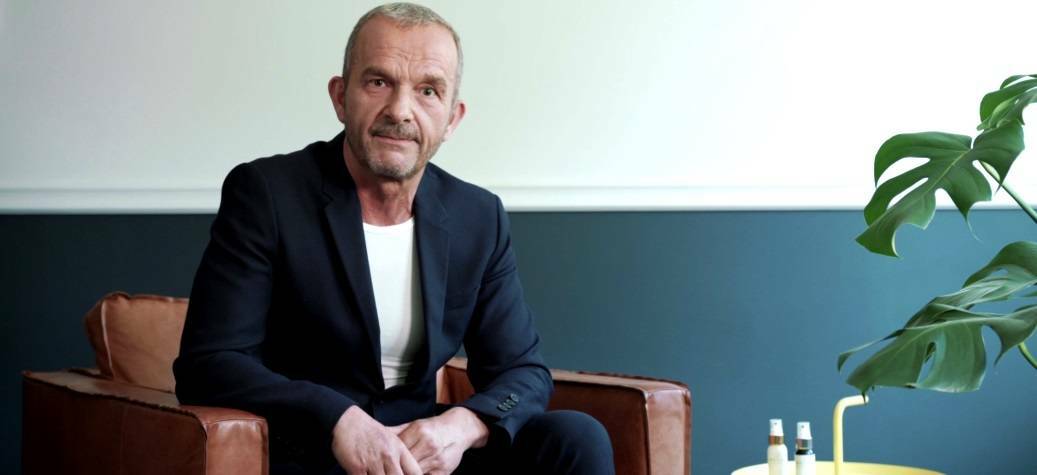 FOUNDER
Dr. Matthias Weiler, Founder and CEO, studied dental medicine at the Universities of Erlangen and Berlin in Germany. Afterwards, he worked at the University Hospitals in Munich and Regensburg, departments of maxillo-facial surgery. He also had a fellowship at the well-known clinic for plastic surgery of Professor Pitanguy in Rio de Janeiro and was leading oral surgeon for a dental clinic in Milan, Italy. His vast 20 years-experience helped to create a well-known dental clinic and dental hospital for not only German people but also patients from abroad in 1991. Later Dr. Weiler sold the clinic and hospital to work on most modern flavor science. For the last 4 years, he worked very concentrated on this science, an astonishing area, which becomes more and more recognized for new applications.
Since the foundation of AZ Zahncreme GmbH in 2013 based in Nuremberg, Germany, Dr. Weiler intensively worked on the development of innovative technologies in the fields of healthcare, personal care and cosmetics. The first flavor toothpaste came out in 2014. But that was a one trick pony for the company. Therefore, the company keep work out on the paste, in 2017 they optimized the recaptures and developed four different flavors. Currently, the company's flavored kinds of toothpaste with four different flavors is ready to be produced. Necessary laboratory tests went perfectly. It received wide interest from different countries and the team is working concentrated to launch the toothpaste in 2019. All products will be produced in Germany because distributors want the quality 'made in Germany'.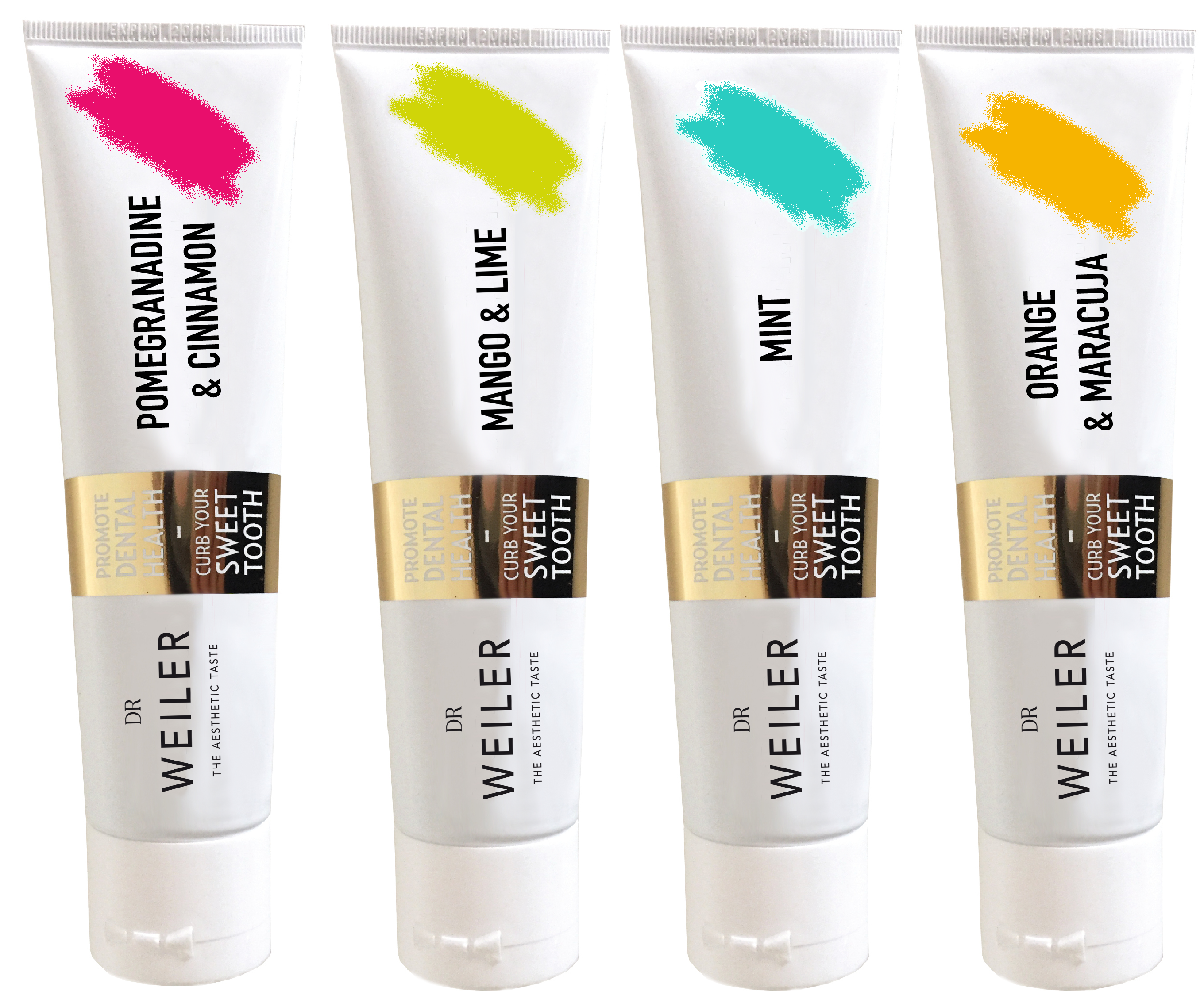 Furthermore, the really unique new product Dr. Weiler - THE AESTHETIC TASTE was developed in 2018. The mouth spray created towards reducing excessive sugar consumption, became the real breakthrough in the fields of healthcare and flavor science. The company has overcome many difficulties in creating a very specific product. On its way, the team took quite long steps towards the realization of the product, namely, applied for a patent, made the proof of concept and received the consumer's feedbacks to choose the right taste that would suit everyone, especially kids, but still they managed to overcome all those milestones and the product is ready for market.
Dr. Weiler - THE AESTHETIC TASTE spray was also selected to the Top 100 Science Spinoffs and has entered 2 % out of 5,000 global science spinoffs according to the following criteria: uniqueness of the technology/product, high commercial potential and positive impact to the humanity's well-being. (Source: spinoff.com)
PRODUCT USP
The scientists proved that Certain flavors have been known to curb sugar craving by tricking the brain into believing it's satisfying The team worked on the technology over 4 years and succeeded to double this flavor effect by the sweet taste, but for sure without sugar or any artificial sweeteners. Therefore, the people can now decide what they prefer the most, namely, have two to five hubs of Dr. Weiler's spray or a sugar bomb with a lot of calories. Moreover, sugar is the only excessive consumed substance which has no nutritional value. AESTHETIC TASTE spray is sweet but it contains no sugar or sugar substitutes and works in a completely natural way by its sweet taste and flavor effect.
Another big advantage is, that the spray is a portion of food, so registration is regularly not necessary. Moreover, the spray is vegan, gluten-free, lactose-free, contains no sugar, no artificial sweeteners, no fat or salt. A really and absolutely unique receptor.
DESIGN & FLAVOUR
Elegant design and packaging show the uniqueness of the product. There are 2 different designs. Number one is made in white and golden and made especially for women. The second one in black and silver as a unisex design. Moreover, there is a special design for children and youth that they appreciate a lot.
For thousands of years' people develop positive adaption on certain flavors, such as Vanilla. Vanillin is found in high concentrations in breast milk that is why people have a positive adaptation to this flavour. The special flavor mixture based on such herbal ingredients has been developed for two years and tested on 130 overweighed people. Namely this unique "sweet taste" reduces the consumption of sugar. The delicious spray is the perfect and innovative solution to reduce sugar consumption, help to lose weight, get the shiny skin and to support a healthy way of living.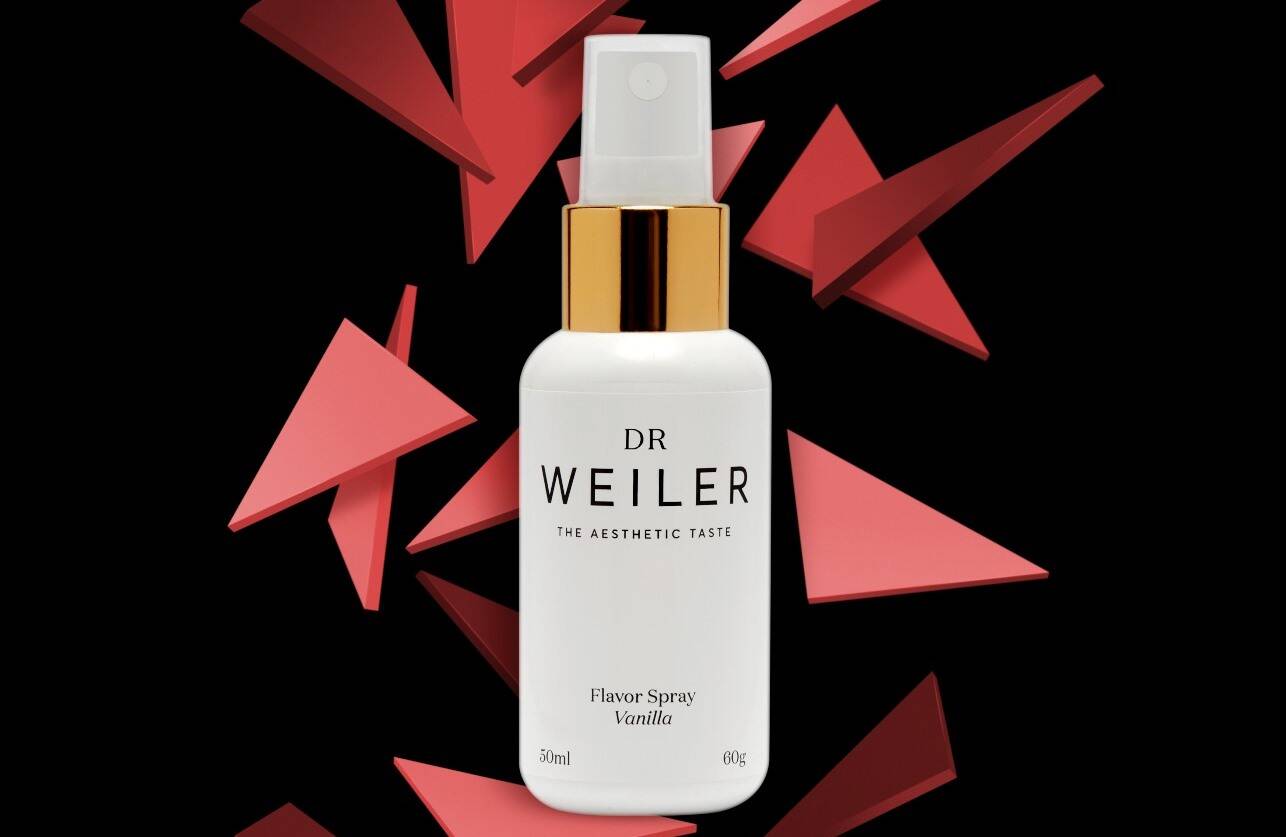 APPLICATION
One bottle contains 50 ml of spray. Using Dr. Weiler's spray on a regular basis (three times a day) means one spray per month and 12 sprays per year. As an example, there about 2.5 billion overweight people worldwide. Reaching only 1 million people will lead to 12 million sprays. 10 million users mean 120 million sprays per year. It is in a price range everyone can buy and it can become a 'must have'. If to compare spray with the famous soft drinks, 10 soft drinks cost as one Dr. Weiler - THE AESTHETIC TASTE spray.
The spray can be used anytime and anywhere if the craving for sweeties or soft drinks occurs, so any person can immediately curb a 'sweet tooth' in a completely natural way and by a great taste. All that is needed is to pump 3-5 sprays under the tongue and just take two deep breaths to stop a sugar surge immediately or use it in between for sweet kick without sugar.
SOME MATHEMATICS
If to use the spray on a daily basis for example 3 times and each time 3-5 sprays, the caloric impact is about 15 kcal. This is just zero if to be aware that a normal person has a daily 2000 kcal diet. Moreover, avoiding for example 3 cans of a soft drink on a daily basis means 450 kcal or 110 grams less of pure sugar. Sugar is immediately stored in the body as fat and 9 Kcal of sugar means 1 gram of fat. So, in summary, avoiding three cans of Cola daily means up to 2 kilograms' weight loss per month and a much healthier lifestyle. In summary, the spray itself is a complete food with natural ingredients, but is it a cosmetic product too, as less sugar means a clear and shiny skin.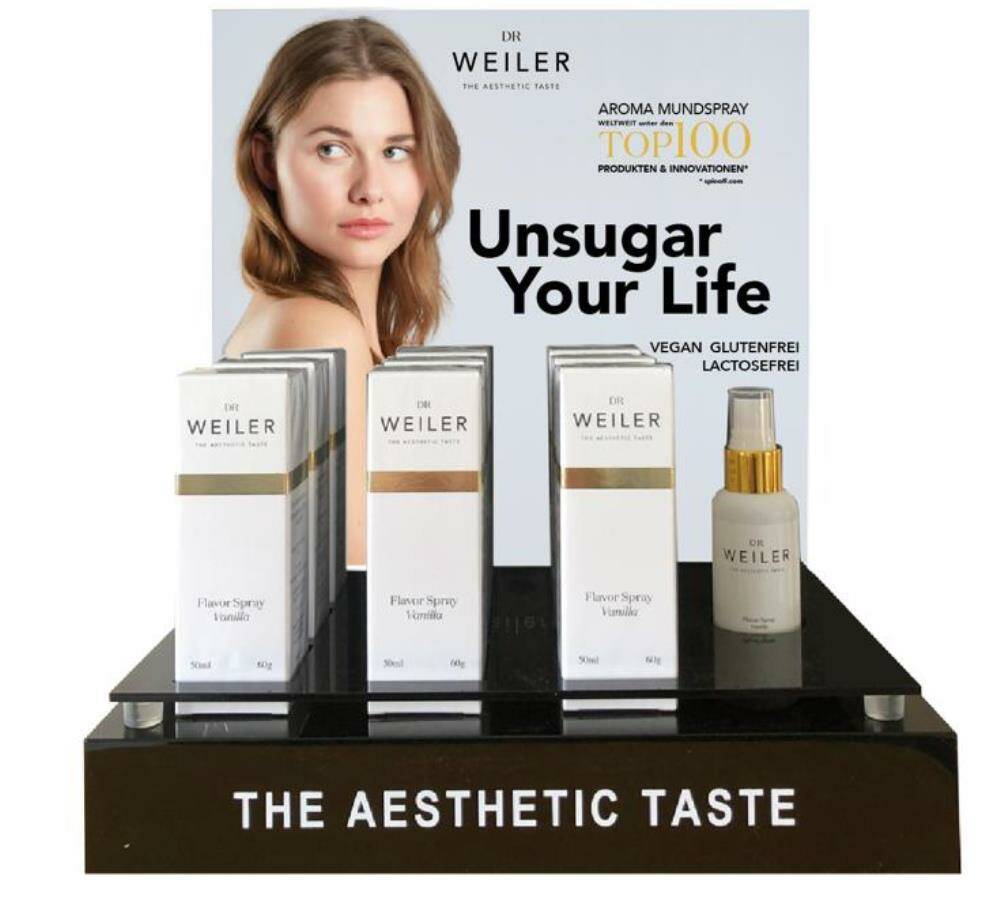 FUTURE PLANS
The name Dr. Weiler is registered as an international trademark. The product is now patent pending in Germany and then step by step the company plans to apply for an international patent to cover Europe, China, India, USA, and etc.
The team is actively working to attract partners and has already held talks with well-known brands, popular European stores, supermarket chains and are also considering other partnerships and large distributors, who will help bring the product to the market. Furthermore, the management is engaged in partly late stage discussions with distributors for several more countries and first deliveries. The company has finalized first contracts and moves forward with a franchise concept. For one country with about 85 million people, the company plans to open the first Dr. Weiler's shop in a city with about 4 million people.
Dr. Weiler - THE AESTHETIC TASTE spray plans to reach those customers, who are looking for an easy way to live healthier, feel better and fitter and manage their weight not by any pills, food supplements, but by avoiding unhealthy behaviour by using spray anytime and anywhere. The product is a cosmetic one, as less sugar consumption means clearer skin, it is a body care product as it supports weight-management significantly and it is for sure a health product.  The product is suitable for a large number of industries e.g. food industry, for cosmetics, supermarkets, vegan shops,  and even pharmacies.