By Terry, a sophisticated beauty and perfume brand, was founded in 1998 by Terry de Gunzburg. When setting up her now globally successful cosmetics brand, Terry de Gunzburg's mission was simple: to give women what they need. Drawing on her own lifestyle and beauty needs, the founder set about creating products that were not based on the latest trends or fads, but that were easy-to-use, accessible and universal. Furthermore, throughout her career, Terry has been obsessed with the scientific side of beauty and has spent decades working closely with research and development teams across makeup, skincare and fragrance, producing luxury and exquisite creations. Terry de Gunzburg is a trailblazing industry legend who over the course of the past 30 years has changed the face of beauty. Hailing from a family of scientists, Terry initially embarked on a career in medicine, but soon abandoned her studies for a more creative life.
Terry's story:
Cutting her teeth at the now-fabled Carita beauty school in Paris she quickly became an in-demand studio makeup artist working across runway and editorial with some of the biggest names in fashion from Helmut Newton to Guy Bourdin. Her trademark beauty look has always been distinctive: imperceptible foundation, impeccable lips and thick, separated lashes.
But it was her collaboration with Yves Saint Laurent that would leave an indelible mark on fashion and beauty history. As International Makeup Designer of YSL Beauté for 15 years, Terry invented countless products and formulas, including the iconic Touché Eclat in 1992. Indeed, radiance and a healthy, but an invisible complexion has always been key to Terry's approach to make up, so when she decided to launch her own collection of products in 1998, By Terry was born as a bespoke 'couture' beauty line offering made to measure cosmetics.
Word soon spread and a year later, Terry introduced an ultra-luxurious soon to be cult beauty line to the wider market. In 2004 after a mix up in the lab, double the amount of rose butter was added to a lip balm which would soon become ByTerry's most successful product: Baume de Rose. Described as the Rolls Royce of lip balms, it symbolises everything the brand stands for - luxuriant, indulgent and a timeless classic.
In 2012 Terry introduced her debut Haute Parfum collection working in collaboration with Michel Almairac. Each scent was composed in Grasse and celebrates the rare and the precious. Three years later Terry launched the Expert range - each and every product a multi-tasking, dual action makeup staple combining both the formula and the tool for its application. Terry has always understood the time pressures on modern women rushing between their many roles in life, so created this easy to use a collection which still offers a professional finish. In September 2017 the Expert range was expanded to offer even more convenience for women on the go.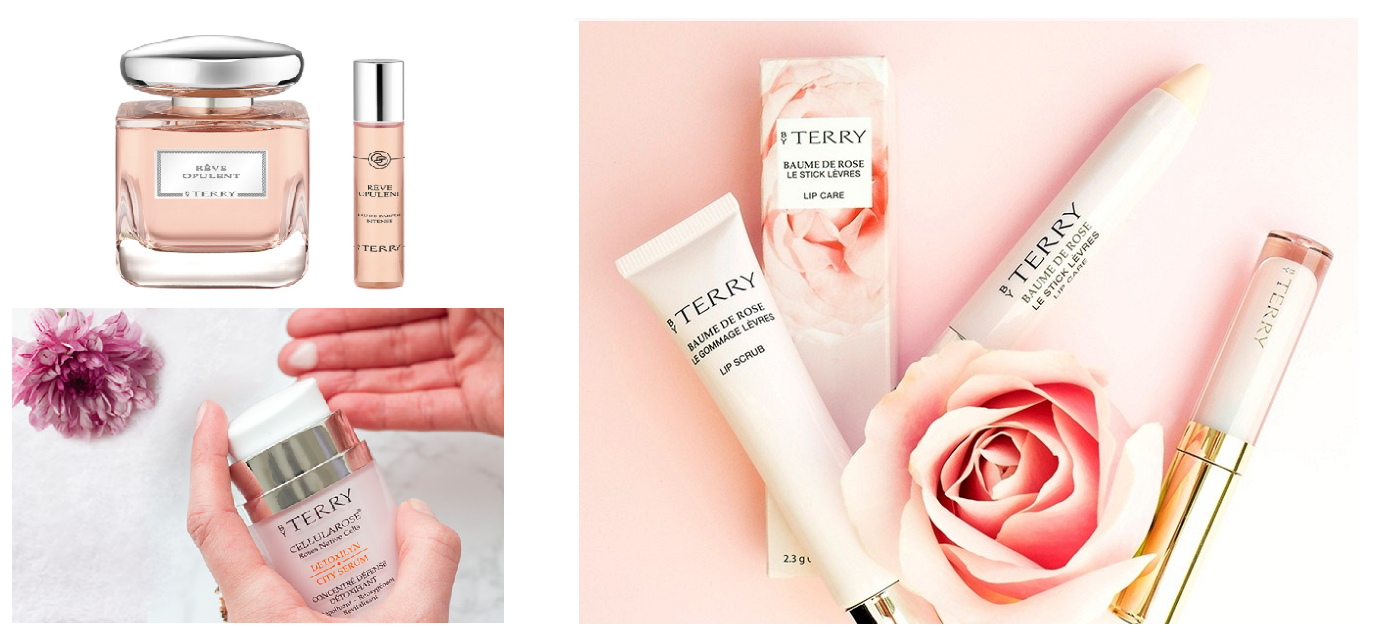 Terry's lab:
The reason why Terry's products are more expensive than some others isn't that of money spent on the packaging or aggressive advertising - instead, the investment has been made in her state of the art research & development lab in Paris. Innovation is truly at the heart of not only the skincare collection but the make-up line too. By using only the purest pigments in exceptionally high concentrations and combining nourishing and protective ingredients most usually found in skincare, By Terry's colour products are multi-tasking and will improve your skin as you wear them. Terry believes that beauty must appeal to the senses, so the scent of every product will smell exquisite, the feel of every cream will be decadent and the high-end ingredients will effectively enhance your skin - to Terry, that is what true luxury is all about.

Terry's ingredients:
While the list of ingredients used across the By Terry collection would fill countless pages, there are several signature extracts and raw materials that are key to the beauty and skincare collections.
1. CELLULAROSE®: 
Combining a mixture of native rose cells, the Cellularose® skincare line helps increase collagen production resulting in firmer skin. Each product also comes complete with high levels of Vitamin C which is an antioxidant - marking two key elements in the fight against the ageing process.
2. TAHITIAN BLACK PEARL:
Rich in fortifying calcium, anti-aging proteins and antioxidant tocopherols, the Tahitian black pearl extract found in the Ombre Blackstar collection of melting eyeshadow sticks smooths and fixes colour to the eyelids. Creating a protective film, the formula defends the delicate eyelid from environmental pollutants. 
3. LUMICOAT®:
Combining Glycoproteins to boost lash growth, Collagen and Hyaluronic Acid for silkier lash condition and ultra-soft plant wax and polymers for a curving and volumizing effect, Mascara Terrybly is more than just a make-up bag staple - it's a little bit of beauty magic.
Therefore, Terry's simple beauty tips are designed to make women's lives easier and have subsequently become signature to her brand - from teaching women that less is always more when it comes to coverage to wearing a bright red lipstick to give you an instant lift and glamour. The founder believes that every woman should be a master of her own beauty and not feel afraid to experiment and be bold.