A passion for jewellery and desire for the unorthodox is what brought sisters Kaabia and Sasha Grewal together to launch Outhouse in 2012. Guided by a sophisticated yet dramatic sensibility, the duo combines unique elements with inventive design to create their collections. Quality & Luxury are the core attributes of the Outhouse brand, from the finishing of the handcrafted pieces to the beautiful pink packaging box that a customer receives, to the shopping experience at their flagship stores in Delhi and Bangalore. Outhouse thrives on constantly pushing the envelope with design and redefining how fashion jewellery is created and adorned. Every piece aims to be a piece of art, a style statement and a conversation starter, which embodies a bit of culture and heritage, and also the soul of the Outhouse woman. Outhouse's core principal revolves around the balance of design and craftsmanship, where every creative expression honours age-old Indian artistry.
HISTORY:
After working as head designer at a design house, Sasha went on to join a high street fashion brand, Topshop in London. Kaabia attended the Gemological Institute of America in New York to pursue her interest in gemology after which she interned with jewellery designer Eddie Borgo.
In the span of 4 years, Outhouse has had 3 shows at Lakme Fashion Week, numerous exhibits, participated at entrepreneurial summits, won the Vogue Fashion Fund in 2015 and been featured in the Forbes India 30 under 30 list in 2016. Today, Outhouse is one of India's leading bridge jewellery houses; adorned by style icons and film stars like Sonam Kapoor, Priyanka Chopra, Deepika Padukone, Kangana Ranaut, Nargis Fakhri as well as global names like Sienna Miller, Ashley Louis James and Tyra Banks.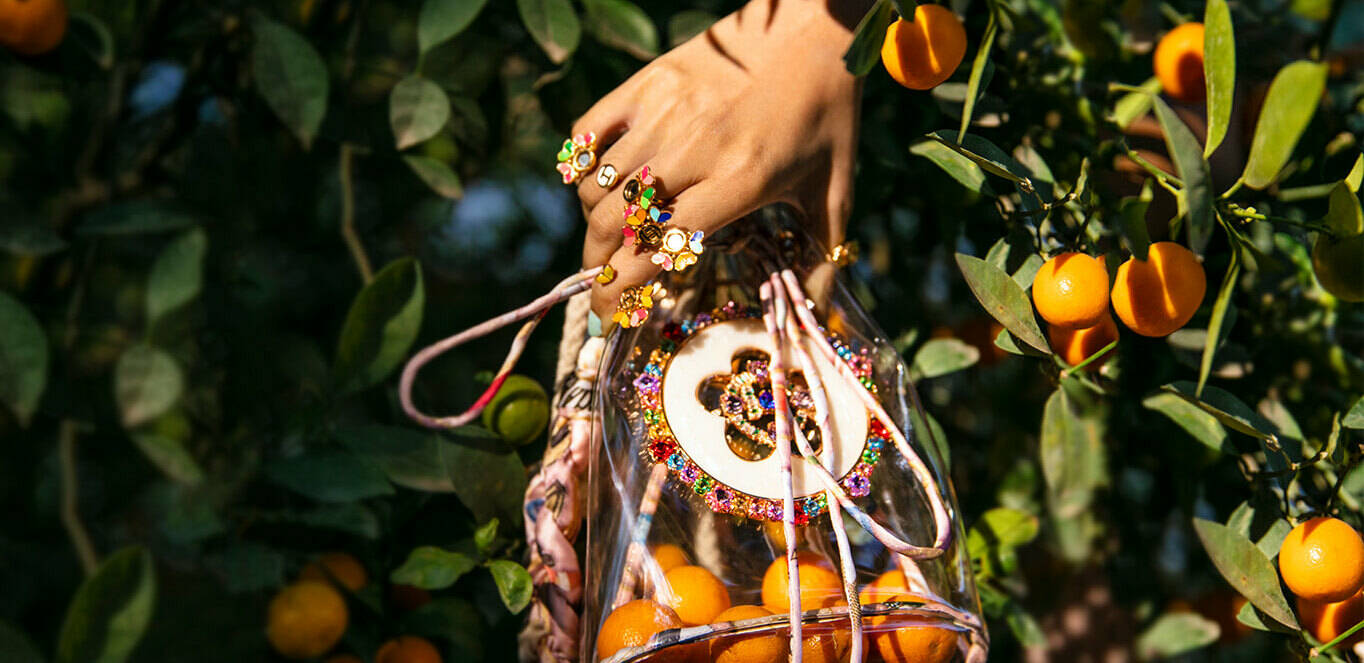 CRAFTSMANSHIP: 
Handmade in their studio, the jewellery is a culmination of the finesse of the craftsman technical prowess and keen attention to detail. Skillfully cast and polished to perfection, the piece is then plated with 2 microns of 22-carat gold, followed by 2 microns of lacquer, which prevents tarnishing or corrosion. This special care is taken to ensure comfort and durability. A play of geometric and fluid metallic forms with exotic crystals and semi-precious stones forms the basis of Outhouse's design aesthetic. Outhouse has always strived to achieve mastery in every aspect of creation and provide women around the world with jewellery of the highest calibre.
OUTHOUSE JEWELLERY LOOKBOOK
JARDIN DE PARADIS Collection: The Outhouse bride is a vision of her own making; the pinnacle of style as she facilitates occasions with artisanal finesse in crystals, a string of lustrous pearls and exceptionally sculptured carved stones, creating a vivid contradiction in a palette of jade greens, blood ruby tones, and flamingo pinks. Enthralled, enchanted and enriched, the bride draws inspiration from the intemporel garden of her imagination 'Jardin de Paradis'. The collection is characterised by an exuberance of roses red and pink, majestic birds, a charismatic play of spectral colours and the intricate beauty of their wings.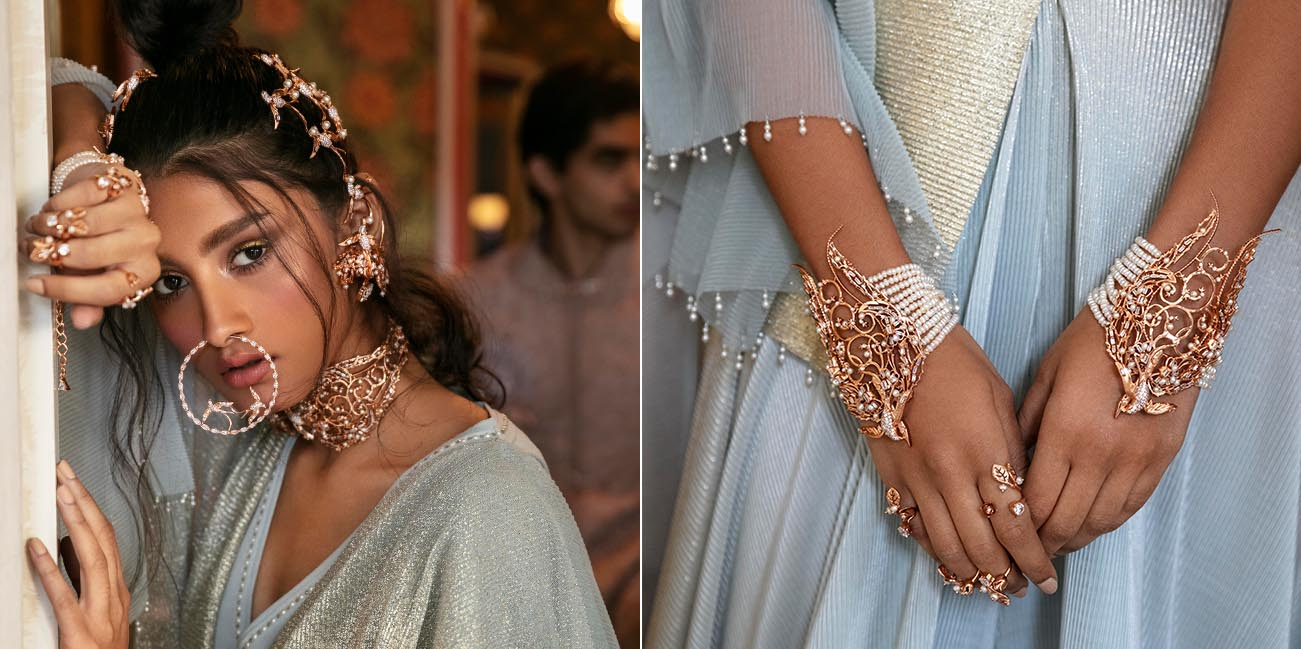 THE WILDFLOWER Collection: A celebration of fluorescent emotions, this collection brings the free Boheme spirit to jewellery in a myriad of colours. Each piece is handcrafted with attention to detail and design. A celebration of love in the form of interwoven patterns and colours; all brought to reality in the hands of fine craftsmanship.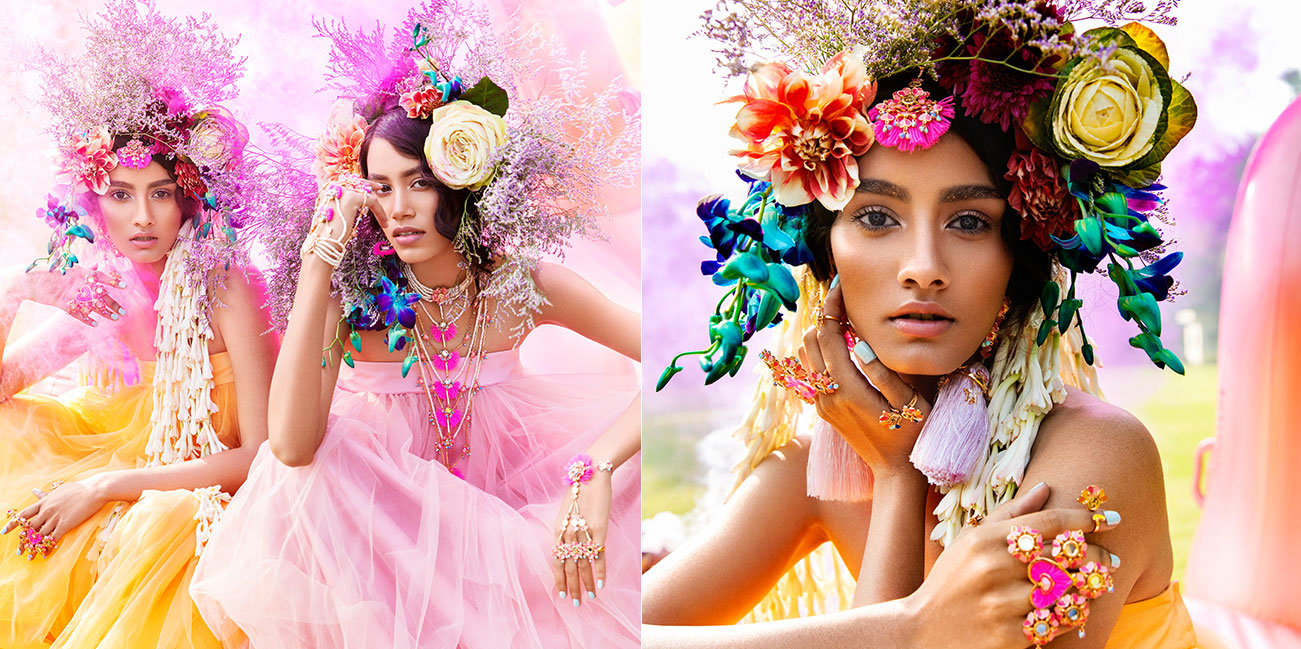 IMAGO ENCHANTED Collection: Inherently feminine, Imago Enchanted is a creative expression of metamorphosis. Fluid forms in gold and sparkling crystals give the collection a sense of whimsy while the neutral colour palette ensures versatility. The transformative pieces in the collection are in sync with her myriad moods and personalities. Handcrafted with crystals by Swarovski, each piece of Imago Enchanted has a story to tell. Like a butterfly, every piece of jewellery can transform through the day.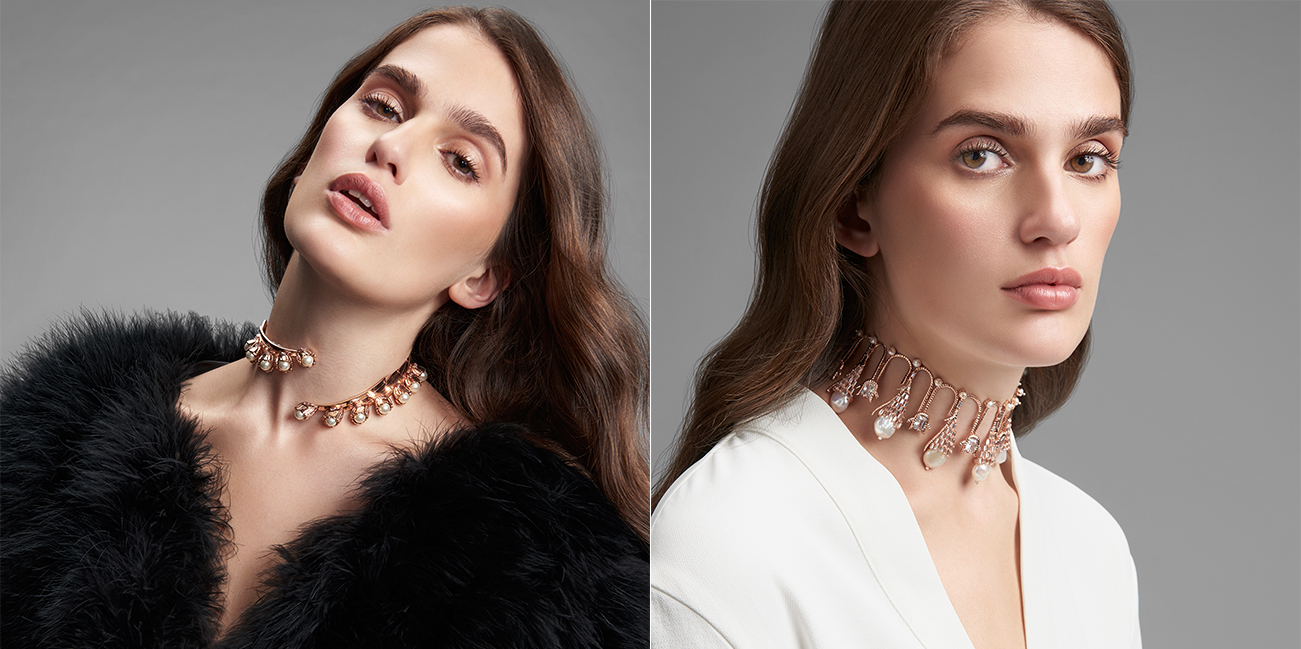 BRIDAL Collection: Taking a look back into time where the true sense of grandiose was meticulous craftsmanship, intricate artistic motifs and the allure of technique, this millennial destination bride walks forth in all her innocent regality. The season that regales with famed tales of love, the feeling of unequivocal joy clinches together this precious moment for the 2.0 destination Outhouse bride.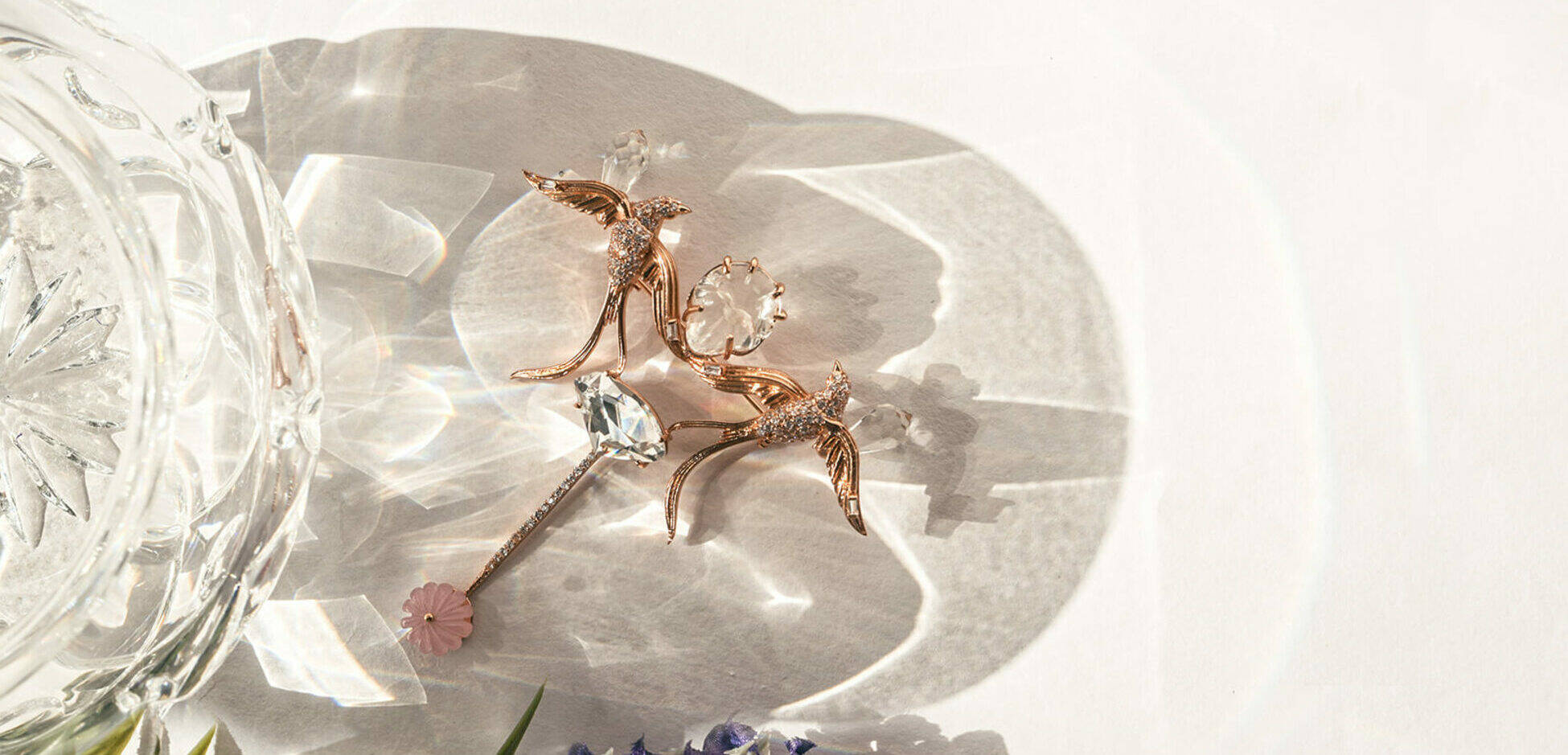 The jewellery swathed around this magnifique bride is thoughtfully articulated, as was the romanticism of art in luxurious mirages engineered by dreamers and storytellers of the bygone era. Borne out of love, just as those masterpieces cosseted on momentous occasions, these modern heirlooms envision the peculiar vintage flora and fauna into classic bejeweled trellises. The collection marks the debut of Outhouse Bridal Couture, a range of innovation pieces like the galleries and garters have been re-engineered into jeweled wearable pieces of art. The truly exceptional and iconic ear comb and ear cuffs have been reintroduced with an alluring dose of passion. The arrival of style manifests as she walks in her finery of jeweled crowns, hand harnesses and majestically tiered necklaces garnished with splendid etchings. From robust statement chokers to accents of rings and far from quotidian headdresses, these hypnotic compositions are the confluence of classic opulence with the sophistication that is tastefully unique.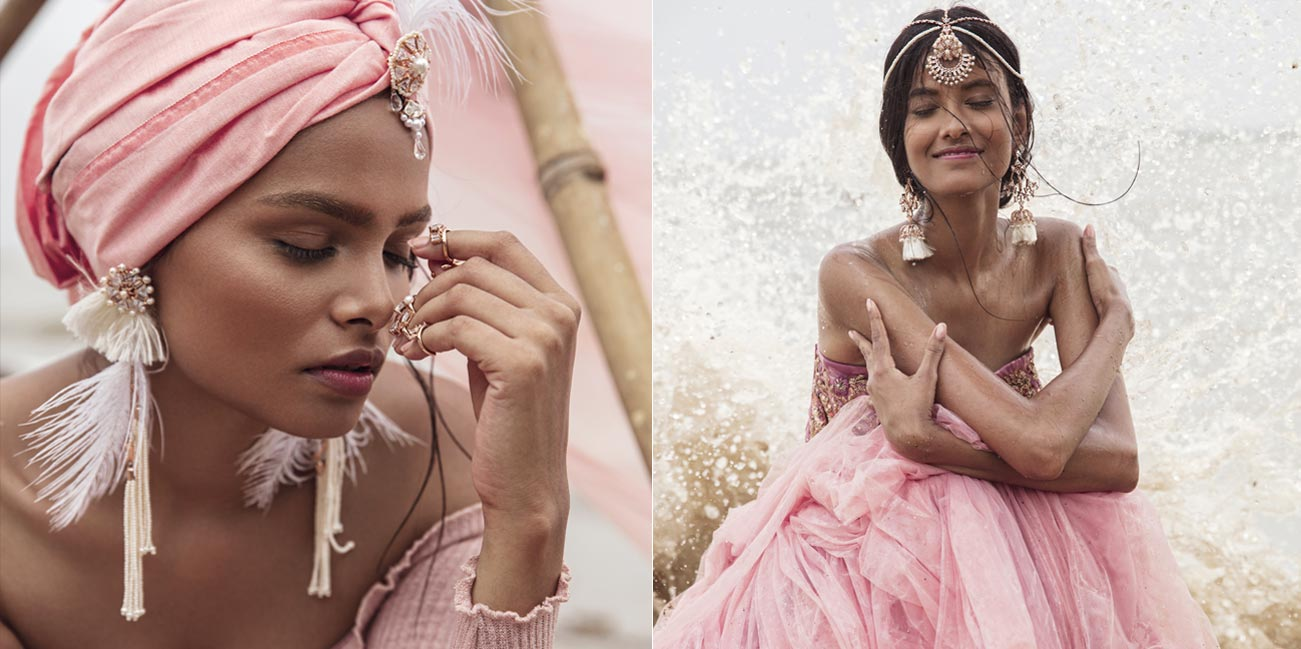 IMAGO SS '17 Collection: Outhouse introduces their collection titled 'Imago' which parallels a caterpillar's transformation & metamorphosis into a butterfly with the change in psyche and growth in self-consciousness that takes place within a human in their lifetime. It focuses on showcasing this story through cocoon and butterfly motifs handcrafted in metal, experimenting with 22kt rose gold & gunmetal plating.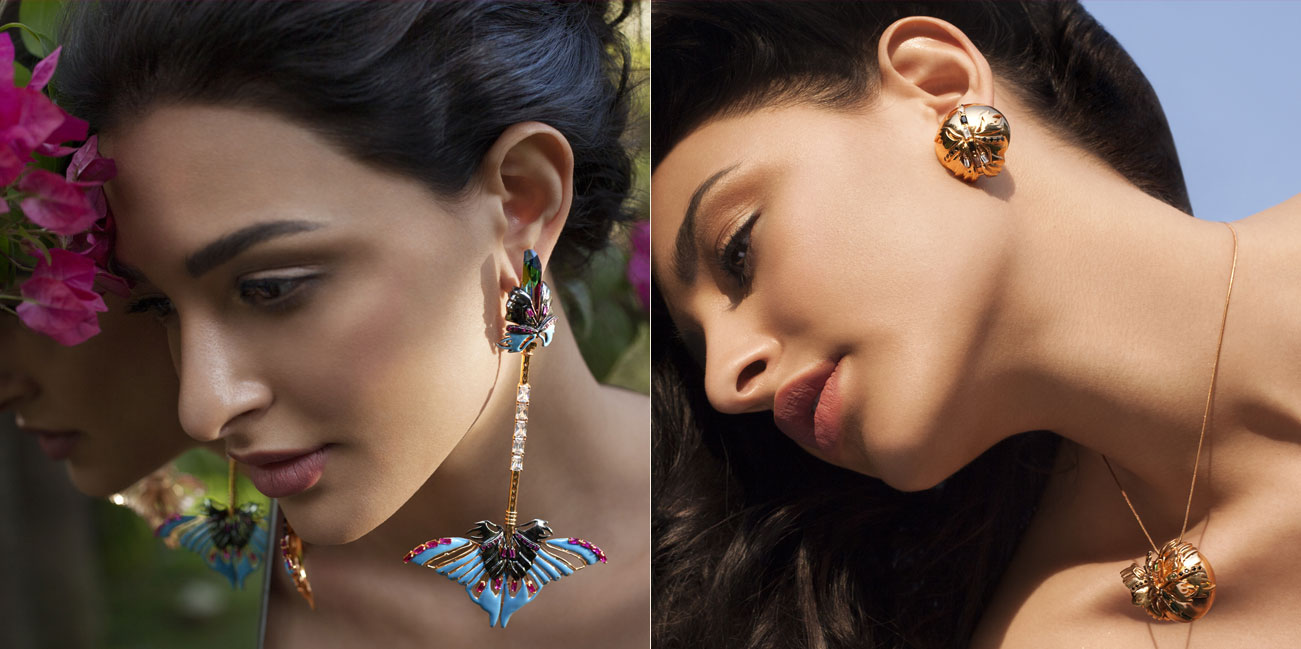 THE STALLION NECKLET Collection: Symbolised as a creature of power, independence, and sensuality, the Stallion is an icon of the modern woman's strong sense of self & her unapologetic femininity. Outhouse, known for its intricate, statement & innovative jewellery, introduced a new line, marrying the undeniable style appeal of the choker with a signature Outhouse take; The Stallion - Necklet Collection, a festive capsule celebrating the individuality of the Outhouse Woman.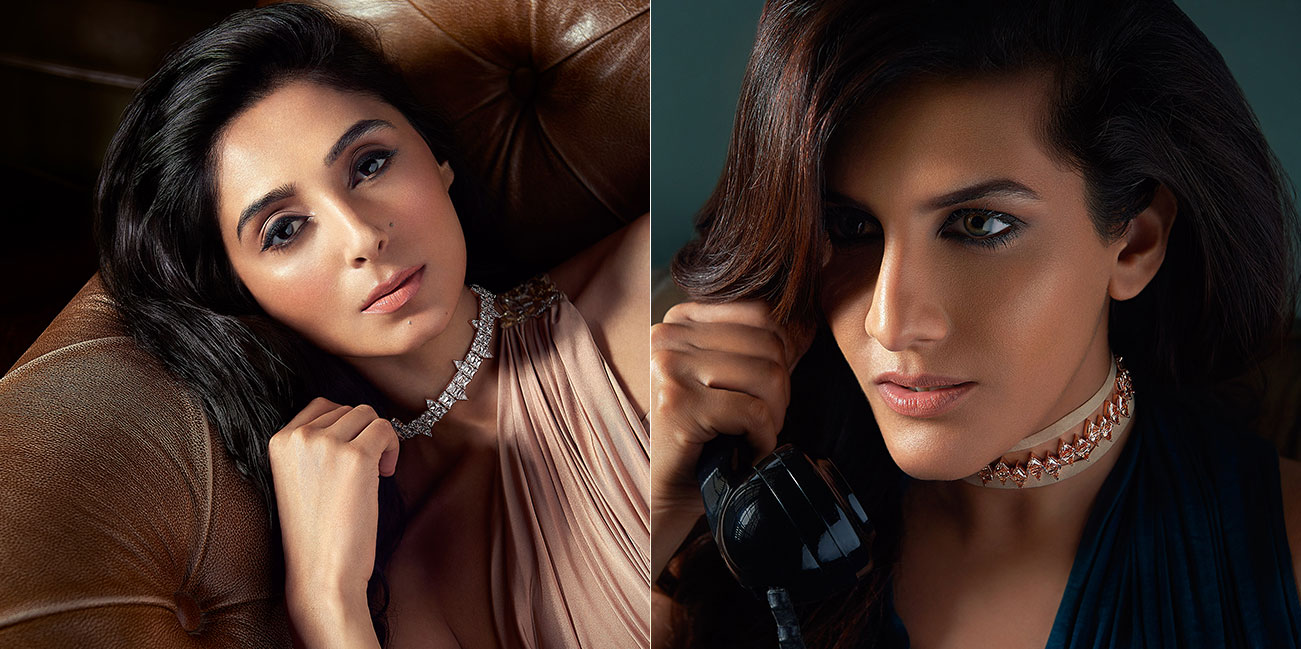 ILLUSIONS Collection: Originating in the Surrealism Movement, 'Illusions' bridges the gap between reality and imagination. Dreamlike, magical and with an element of surprise, the collection presents a wave of energy and experimentation with new techniques like intricate channel setting and new stones and materials like Blister Pearls, Pyrite, Shell Inlay, Black Onyx, and Mohave Dalmatian.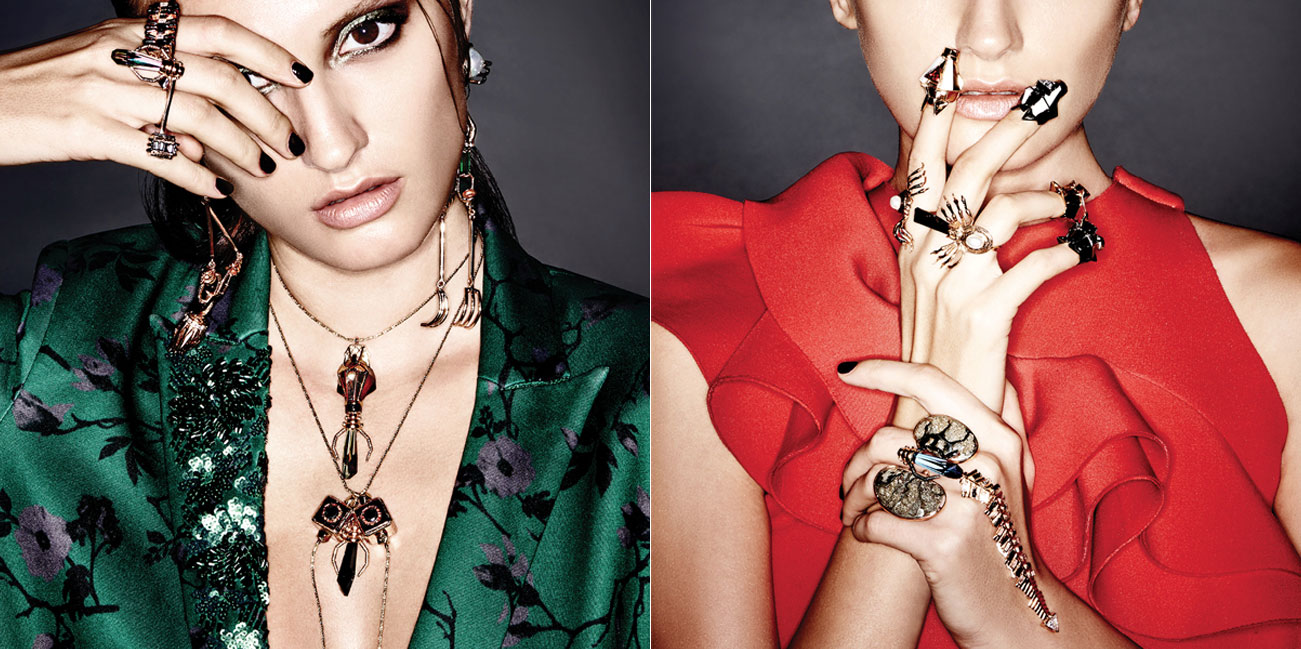 COLLABORATIONS:
SWAROVSKI Collection: A special edition concept, 'The Balance' is an interpretation of 'air', through the form of a Dragon Fly. The characteristics of this spirit animal represent the modern woman and her multi-faceted personality. She defines her own destiny and creates a perfect 'balance' between her strength & individuality and her inner tranquillity. A collection where normcore and glamcore inhabit the same space, in perfect co-existence.
PHILOSOPHY:
Sasha and Kaabia have managed to combine their distinct personal styles to create the unique Outhouse aesthetic by taking inspiration from their travels around the globe. While Sasha experiments with dramatic yet classy looks, Kaabia describes her personal expression as quirky and edgy. Outhouse's inspiration lies in a classic combination of shapes and symbols of Indian and International cultures, moods and fashion, experiments with such materials as Swarovski, semi-precious stones, leather, and metals. Outhouse creates beautiful works of wearable art.